News Room
ManUpstate Campaign Launches with Words from SC Leaders
Posted on 10/03/2014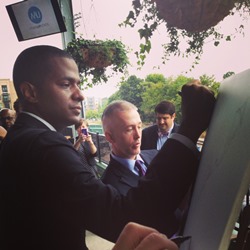 FOR IMMEDIATE RELEASE – October 3, 2014
***PHOTO ATTACHED - SC Representative Bakari Sellers and US Congressman Trey Gowdy sign ManUPstate pledge poster at the ManUPstate press conference on Friday, October 3 at Fluor Field.
ManUPstate Campaign Launches with Words from SC Leaders
GREENVILLE, SC: "Statistics show that only about 15% of men are abusive or violent towards women. And yet, 1 in 3 women will be victims of abuse during her lifetime. How can we, as the 85% of good, well-meaning men, allow this to happen in our presence?" - Tony Porter, co-director of A CALL TO MEN
Today, over one hundred people gathered at Fluor Field for a press conference to launch an awareness and educational movement for the Upstate of South Carolina called ManUPstate – www.manupstate.org.
ManUPstate is an Upstate initiative that urges men to engage in addressing the issue of violence against women. Using a play on words with the popular phrase: "Man Up!", ManUPstate hopes to challenge unhealthy attitudes and social norms among men and boys that tend to create unhealthy understandings of masculinity which often lead to an acceptance of violence, abuse and discrimination towards women and girls.
The ManUPstate pledge is simple: "I pledge never to commit, condone or remain silent about violence against women and children. I pledge to learn about how I can help to end violence and discrimination against women and children and to work towards creating a community where all people are valued and safe."
Led by Safe Harbor, Julie Valentine Center, Compass of Carolina, Greenville County First Steps, Upstate Fatherhood Coalition, Phoenix Center, Pendleton Place and Foothills Alliance, ManUPstate launched today with a press conference and live website (www.manupstate.org), urging men to take a stand on this issue. Press conference speakers included Sara Barber (Executive Director of SCCADVASA), US Congressman Trey Gowdy, SC Representative Bakari Sellers, Chris Corley (owner of Corley Plumbing, Air & Electric), Derek Lewis (Executive Director of Greenville First Steps) and Bobby Rettew (Gray Digital Group).
"Whenever I've spoken at events addressing the issue of violence against women in the past, I've spoken to an audience of women only," shared US Congressman Trey Gowdy during the October 3 press conference. "It is time for men join women in this effort - to understand their role in preventing and ending this stain on the state of South Carolina."
SC Rep. Bakari Sellers shared: "My father taught me that a real man doesn't put you down; he picks you up. A real mean isn't threatened by a challenge; he rises to it. A real mean doesn't demean, deride, humiliate, hurt or hit…and he won't stand by and let someone harm another."
The ManUPstate campaign launches today and will continue throughout October with a pledge campaign – men are encouraged to visit www.manupstate.org to sign the pledge and share it with others. The ManUPstate campaign will continue with a ManUPstate community breakfast with keynote speaker, Ted Bunch, on Friday, November 14 at 8:00am at the Kroc Center. Ted Bunch. co-director of national organization A CALL TO MEN, speaks nationally and internationally about the importance of men playing a role in preventing and ending violence against women and girls. More information and registration information is available at www.manupstate.org.