Special Events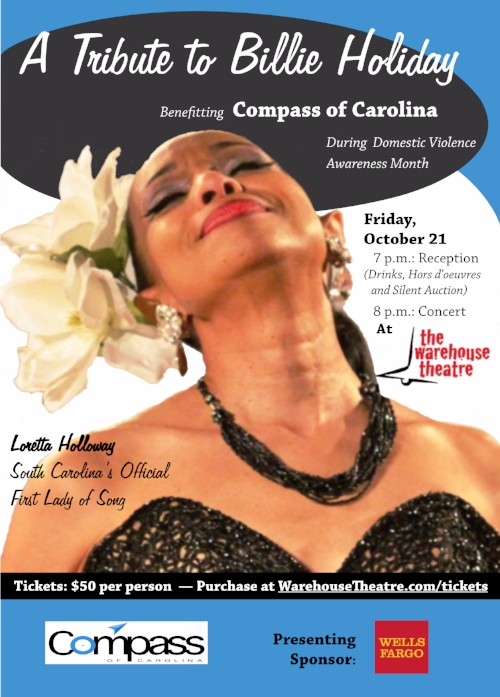 Loretta Holloway- A Tribute to Billie Holliday
Lorretta Holloway- A Tribute to Billie Holliday
Loretta Holloway South Carolina's Official First Lady of Song
In Tribute to Billie Holiday at The Warehouse Theatre 
In Support of Compass of Carolina For Domestic Violence Awareness Month
Friday, October 21, 2016, 7:00 PM Reception, 8:00 PM Concert
Presented by Wells Fargo
Loretta Holliday brings to life the jazz and blues music of the legendary Billie Holiday.  During the 1930's and 40's, Ms. Holiday famously asserted her talents to raise the social and political consciousness of black society, including melodically protesting against domestic violence. Diana Ross portrayed her in the biographical film Lady Sings the Blues in 1972. Ms. Holiday was inducted into the Rock and Roll Hall of Fame in 2000.
---
---
---
We would like to thank our sponsors for their dedication to helping those in need in our community.
Presenting Sponsor
Wells Fargo
Platinum
Beth Padgett
CFO Services on Demand
HR Experts on Demand
Gold
Bank of Travelers Rest
BMW Manufacturing Co.
Chuck and Debbie Milteer
Greenville Federal Credit Union
Master Power Transmission
UltraTan
Silver
Bynum Aesthetic Dentistry
Carol and Dewey Tarwater
Cathy and Alan Fant
Christophillis and Gallivan PA
Clean Harbors
Duer Carolina Coil
Independence National Bank
Pope, Smith, Brown & King, PA
Smith Moore Leatherwood LLP
Bronze
Always Best Care Senior Services
Brenda and Jerry Miller
Deal Depot
Eric Brown Design
Landrum and Dollie McCarrell
Merus Refreshment Services
Raymond Godwin
Toshiba Business Solutions
Vision Plus Inc.
Friend of Compass
Ask and Receive
Brian Morris
Edward Jones, Berra Byrd
Hawkins Law Firm
Jo and Bob Hackl
Mavin Construction
MCA Architecture, Inc.
Southern First Bank
* Compass of Carolina also would like to thank our Anonymous Donors.